When it comes to a water damage ceiling, there are so many things you need to take into account. What type of damage is it? Where did it start? Where did it end up? What is the cause? What is the solution? Can you fix it yourself? And exactly how much is the water damage ceiling repair cost?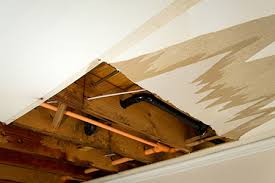 Sign of Water Damage Ceiling
The checklist below will help you with the best course of action to prevent further damage!
Is the ceiling sagging or dripping? This could be due to storm damage, or weight bearing down on the ceiling from a loft conversion for example. If this is the case, you'll need to call an expert in repairing water damaged ceilings!
Inspect the type of damage. Is the damage a thin single crack, dent or hole in the ceiling plaster? A thin, straight crack could just be due to a poorly taped joint and is not cause for alarm and can be repaired easily
Size of crack – Is your crack wider than 1/8-inch? You could be dealing with potential structural damage due to a number of factors including age of the building. Leaving it could cause further issues so it is best to call up for advice and an inspection to ensure no further damage occurs.
Stains – Do you see brown or yellow spots, drips or mould? If so this is signs of a leak or moisture problem. The leak and cause of the leak needs to be identified and stopped before further spreading. Time to call in the experts!
When did you first notice the water damage ceiling? If you spotted it straight away and depending on the type of damage, you have time to inspect the ceiling properly and call a professional for advice. However if you are not sure how long the cracks or sagging ceiling has been there for, you may need to act fast and call a ceiling repair Perth company.
What is the size and texture of your ceiling? If you have a textured ceiling it will be difficult to patch over it yourself. A smooth, plaster ceiling on the other hand can be done by yourself or local handyman.
Water Damaged Ceiling Repair Cost
While water damage ceilings can seem alarming, if you follow the above checklist you should be able to get a quick ideas as to how soon you need to take action and how big the job may be. It could be a case of calling in for a quick inspection and re-taping of joints or it could be signs of a much bigger problem.
The size of ceiling, the material e.g Gyprock or plaster-glass, the type of damage will all determine how long and how much the leaking ceiling repair or cracked ceiling will cost.
The best thing to do is call in the experts for free impartial advice. Don't wait till your ceiling collapse. At All Ceiling Repairs, we have years of experience in ceiling replacement, ceiling patching and sagging ceiling repair in Perth. Our team covers the Perth metro area and we are happy to come to you to inspect your ceiling, give advice on the best course of action and offer you a free no obligation quote.