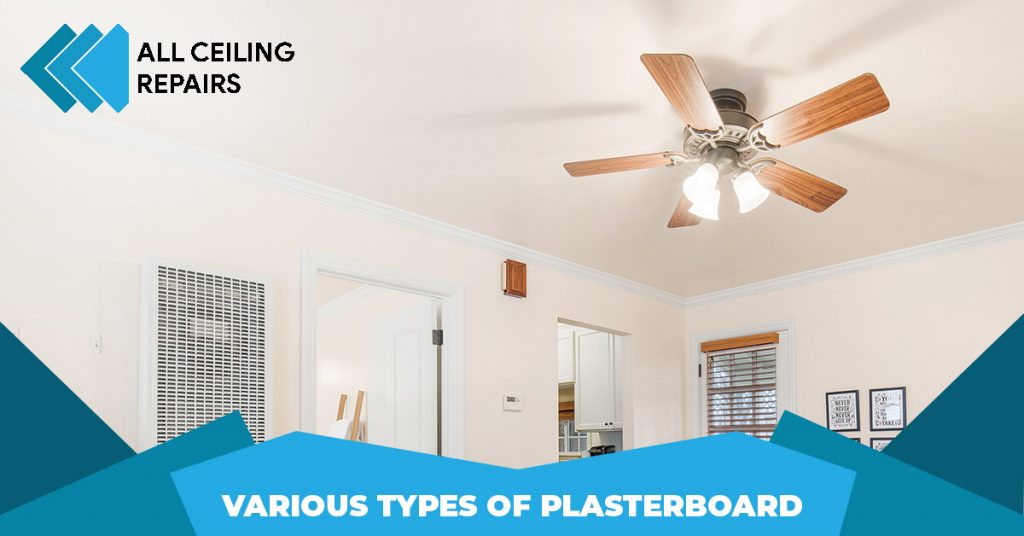 Even though various types of the ceiling are available in Australia, most homes are built with plasterboard ceiling. It becomes a popular option to replace traditional lath and plaster. Plasterboard is also well-known for other names, such as gypsum board, wallboard, drywall and wall panels.
Plasterboard is made of calcium dehydrate (gypsum) into a panel, then pressed between two layers of wood. Plasterboard primarily used as interior walls and ceilings, build partitions wall linings or ceiling in various types of building, from schools, hospitals to shops and also domestic properties. Nowadays, people even use the newer types of plasterboard for external sheathing purposes.
Builders and designers use plasterboard to meet the Building Regulations for fire protection, thermal efficiency and noise control. Besides, plasterboard also excellent in controlling condensation and other potential damages around the area with high humidity. Plasterboard is also providing a smooth finish which is easy to decorate, easy to install and lightweight.
Plasterboard Types
There are various types of plasterboard available on the market that you can choose based on your situation. Essentially, there are some types of plasterboard based on its performance, such as for:
fire performance
acoustic or sound performance
thermal performance
acoustic performance with an aesthetic design for sound reverberation issue
impact resistance
controlling vapour, moisture and water
external sheathing purposes
Here are several types of plasterboard that are available in the market:
Standard Plasterboard
Standard plasterboard comes with two types of edges. It is square and tapered edges, also available in a wide range of sheet sizes and thickness. It has one ivory face that is suitable for direct wallpapering and painting. You can use the tapered one if you want to fill and tape the joints. When you plan to apply gypsum plaster coat, you can use both types, however, ensure the tapered edges face inwards.
Thermal Laminates
Thermal laminate or insulated plasterboard is standard plasterboard that has a backing layer or insulation layer, made of polyurethane foam or expanded polystyrene. Thermal laminates are best to use for external lining of walls and ceilings or even use as a water-resistant "vapour check" layer placed between wall insulation and board to prevent the dampness.
Thermal laminate is available in 2400mm x 1200mm sheet size and between 18mm and 65mm thickness range. Thermal laminates are an expensive choice compare to the other types of plasterboard due to the extra components used in their building construction.
Baseboard
Baseboard is typically the cheapest option among other types of plasterboard, comes with no ivory face and additional insulation. It is available in a wide range of sheet sizes, but mostly available in 9.5mm thickness in the market. Baseboard usually uses on the ceiling with further coat gypsum plaster application and the walls.
Duplex Plasterboard
Duplex plasterboard or vapour barrier board is a plasterboard that comes with foil backing, used to resist water vapour also additional insulation. When the foil backing is facing into a cavity, duplex plasterboard functioned as a reflective insulator. Duplex plasterboard has one disadvantage, which is unable to fix with adhesive. So, choose your plasterboard wisely based on your needs. Duplex plasterboard has a variety of sheet sizes, from the standard size to the smaller one, which is 1800mm x 900mm. The range of thickness is around 9.5mm to 12.5mm.
Fire-Resistant Plasterboard
Fire-resistant plasterboard made of mix materials, fibreglass is one of it, used to make it more fire-resistant. Either the thinnest or the thickest, all fire-resistant plasterboard should be able to protect from the fire up to one hour.
Impact Board
Just like fire-resistant plasterboard, impact board made of a mix of materials such as glass fibre plus other additives. Impact plasterboard designed and best used in high traffic and heavy wear areas. Since the manufacturing process of the impact board is costly, the price is higher. Thus, it is not commonly used in domestic situations.
Conclusion
When you know the variety of plasterboard or gyprock plasterboard, you can choose which one is suitable for your situation. It is essential because the right plasterboard will support your needs and comply with the building regulations. If you need new plasterboard or gyprock ceilings for your project or plasterboard ceiling repair for your home, you may contact us for professional assistance. All Ceiling Repairs will efficiently help you to solve every ceiling problem from how to install gyprock ceiling to replacements in Perth.