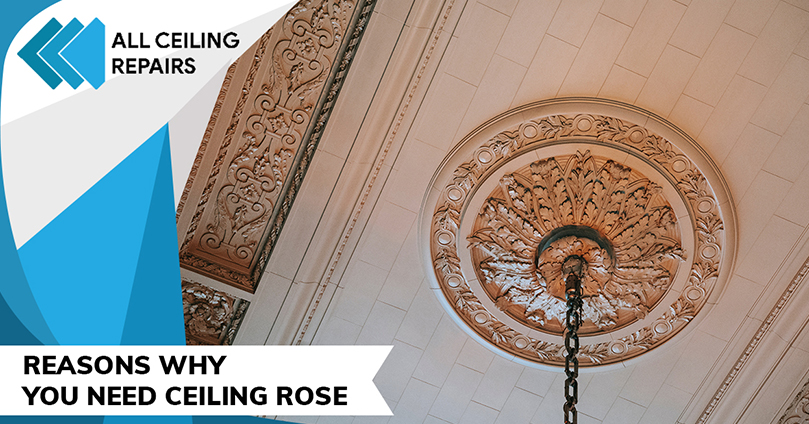 It's crucial to install the ceiling roses in your living space since they help bring an elegant accent and aesthetic to the room. If you install a ceiling rose in your house, it will enhance the appearance and beauty of your home. Back then, ceiling roses were installed originally to protect the scorches and heat caused by candles or gas-lighting. Today homeowners can install and decorate the ceiling roses in any style without having to re-decorate or repaint the entire ceiling. All Ceiling Repairs offers ceiling roses Perth, ceiling cornice and plaster mouldings which are vital in enhancing the visual appearance of your space and offer an attractive background for any light fitting.
Reasons for installing the plaster rose ceiling
Plaster ceilings roses are installed at the central point of the ceiling to offer visually attractive and clean finishing light fittings. The ceiling rose is also affordable and easy to install or replace a damaged one. One of the benefits of plaster ceiling roses is their placement above the chandelier, which helps in preventing the actual ceiling from getting damaged. Replacing the plaster rose ceiling is also much more straightforward than repairing the entire ceiling in the house.
What to consider before selecting the right ceiling rose style for your house
Plaster ceiling roses are manufactured in various designs, styles, and patterns to add a decorative and attractive finish to your ceiling. One of the most important things to consider when choosing a ceiling rose in your house is the size of the light fitting, ceiling height and room size. There are distinct diameters available with the same pattern that can match and suit the different room sizes. Choosing the right size of the ceiling roses will help enhance the look, appearance and beauty of the house.
Tips to choosing the right ceiling rose
1.Picking styles
Ceiling roses come in a variety of styles, including flat, plain and ornate affairs. While picking a style, you need to consider the current décor in your home. A vast collection of styles are available for the plaster ceiling rose, which one can choose based on their taste and preferences. You can also choose your favourite ceiling decorative or ornate features if your ceiling is plain or has no decorative work.
2. Select the right size
When selecting the right size of your ceiling rose, it's vital to ensure that the proportions are correct for both the ceiling height and room size. It's vital to note that a plain and small plaster ceiling rose is perfect for a home space with low ceilings. On the other hand, high ceilings look great with large, ornate or decorative ceiling roses.
3. Get professional help
It's best to seek professional help during the process of selecting a plaster ceiling rose for your home. There is a wide variety available, and sometimes it can be challenging to choose the one that suits your house. Thus, seeking professional help will enable you to choose the best plaster ceiling rose and install it correctly.
Conclusion
We are a reliable ceiling repair company, offering ceiling repairs, ceiling roses Perth and installation. This is an incredible and reliable company that offers plaster mouldings, ceiling cornice or gyprock cornice, patch ceiling holes and any other ceiling issue for the residents in Perth. We have a qualified team of experts offering high-quality services through the years to commercial and residential sites. Our professional team knows how to get the job done, from ceiling decoration, repairs to replacements.
If you have any ceiling issues contact All Ceiling Repairs today, and we will inspect and fix your ceiling correctly.