A sagging ceiling is a serious problem that should not be taken lightly by a homeowner. Leaving the ceiling in its saggy state for a long time will eventually cause damage and injuries when the ceiling falls off.  It's vital to consider sagging ceiling repair from a professional expert to inspect and fix any sagging ceiling damages. 
The building commission report showed several ceiling collapses, specifically in homes completed between 2005 and 2009. This prompted the commission to begin a thorough investigation into what might have caused the ceilings to fall.
The sagging ceiling repair cost in your home will depend on the specific requirements of your repair and the extent of the ceiling damage.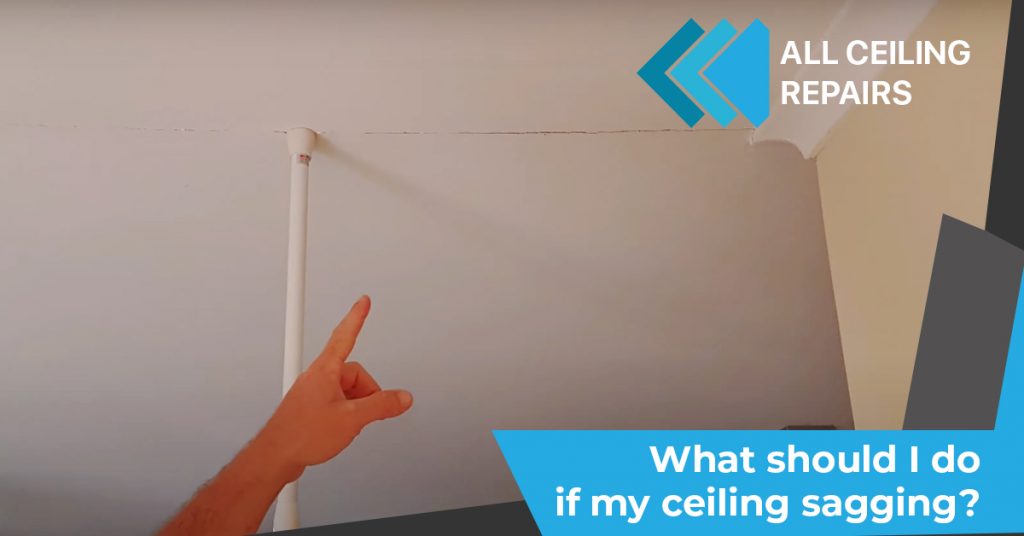 Causes of a sagging ceiling
Moisture can easily lead to a sagging ceiling by causing the foundations to shift or sink. Excess moisture caused by a water leak or leaking pipe can pool on top of the ceiling, leading to a sagging state and eventually collapse. It's vital to identify the source of the ceiling leaking or water damage ceiling before repairing or replacing the supporting frame of beams.
If your foundations are shifting or sinking, you will have problems with your walls, floors and ceilings. You will most likely notice sagging floors, cracks in your walls, cracks in your paving and doors jamming. It's vital to seek help from an expert to detect any problems that might have caused the shifting foundations.
What to do if the ceiling is sagging?
One of the most vital steps to take when your ceiling is sagging is to check the damaged area and identify the damage source thoroughly. It's essential to contact a professional expert to check the primary cause or condition of the ceiling damage.
Prepare the area for repair
It would help empty the room and move furniture and belongings further away from the sagging ceiling areas. When the damage looks severe, it's vital to contact a professional expert or repairman to fix the ceiling. It's critical to clean out the area, cover the various items and floors with plastic covers or newspaper, and ensure that you open the windows to provide good ventilation.
Cost of fixing a sagging ceiling
All Ceiling Repairs will quote the sagging ceiling repair cost depending on the specific requirements of your repair. The service company will also carefully examine the situation at your location and offer you a detailed quote for the repairs. The sagging ceiling repair cost or replacements will also depend on:
The amount or quality of materials required
The size of the area or room that requires repairs
The extent of the ceiling damage
The embellishments or finishing touches that are required
Who to call for a sagging ceiling
All Ceiling Repairs is a committed and reliable company that offers professional ceiling repairs in Perth and its surroundings. We carry out Gyprock ceiling repairs and use proven methods to repair a damaged ceiling, including a water damaged ceiling. Our team of experts offer professional advice when carrying out ceiling repairs Perth on ways of protecting your ceiling, keeping your ceiling looking good and spotting early signs of sagging ceilings. We are entirely committed to beautifying your house and offering exemplary customer service.
Contact our customer service now for more details and free quotes.